We listen to the needs of a society that is increasingly sensitive to issues surrounding food quality and healthy lifestyles. For this reason, over the last ten years, we have reduced the salt content of our prosciutto by 30%, without compromising its organoleptic properties.
Day after day, we work to offer consumers a simple, healthy and preservative-free product.
Our respect for traditional production methods continues over time, and has evolved in light of the dietary needs of our consumers, who are increasingly attentive to product quality and healthy lifestyles.
The qualitative characteristics of the prosciutto di San Daniele are constantly guaranteed by the control systems implemented with regard to the raw materials, as required by the Production Specification.
Our dedication to promoting the qualitative characteristics of our prosciutto and the importance of healthy eating principles is expressed through:
Education on food safety
Spreading awareness about healthy nutrition
Scientific research
Education on food safety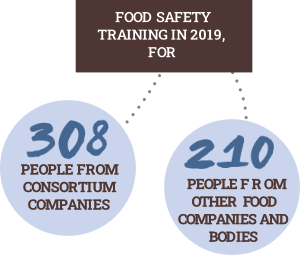 San Daniele production sites meet food safety standards, in line with national regulations and those of the countries that they export to. We provide constant support to consortium members in the continuous improvement of production processes, through training and support initiatives; these are also provided to other food companies and bodies. Specifically, we organise courses and meetings with experts with a view to improving the efficiency and safety of production sites, and to provide members of the consortium and any other professionals interested in such matters with updates on the latest health and safety regulations.
Spreading awareness about healthy nutrition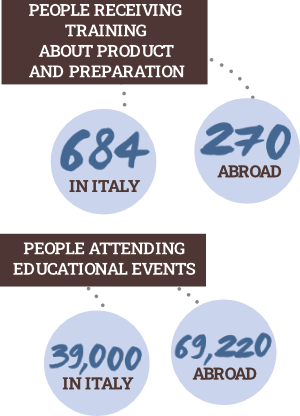 Dialogue with consumers is essential in conveying and raising awareness of San Daniele prosciutto's health and nutrition benefits. For this reason, we organise educational, information-based and product promotion initiatives dedicated to the community, in order to raise awareness of the product qualities and the nutritional contribution it can make to a balanced diet, as well as to promote an appreciation of the tradition behind the product and to promote the work of all the consortium members.
Scientific research
Food science and nutrition is a crucial element in promoting San Daniele prosciutto and our local region in which it is produced. For this reason, we carry out research and training activities in collaboration with relevant organisations and institutions, as well as supporting developments in the scientific and cultural fields, disseminating the importance of a balanced diet for overall physical well-being.